ASP.NET 3.5 For Dummies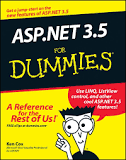 In 2008, I wrote a book for Wiley titled "ASP.NET 3.5 For Dummies". The book was fun to write, a lot of hard work, well-received, but didn't make the New York Times bestseller list.
You can read parts of the book on Google Books.
The technology has moved on since then but just in case someone still wants the source code, you'll find it below.
VB Source Code for ASP.NET 3.5 For Dummies
C# Source Code for ASP.NET 3.5 For Dummies
---